In a world where electronic media has become dominant and computer-based gaming is the norm for a vast majority of people, it is worthwhile to remind players that there are still important benefits and fun to be had from traditional table top games. The best can benefit players of all ages and families both socially and cognitively.

Social Benefits from the Tabletop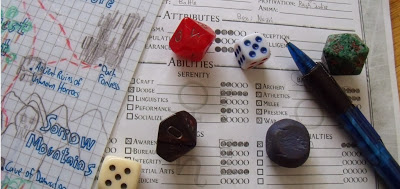 From a social perspective table top games, (RPGs) like traditional board games,require players to interact with each other. Whether or not there are teams involved, players must be able to communicate, be respectful of other players,and practice good sportsmanship. This is especially valuable for younger players who may still need practice developing these skills.
While some may argue that this interaction is also possible in online multiplayer computer games, physical and face-to-face interaction is one thing that it cannot deliver. Table top gaming is also a fun way to bring families together, even providing time for other sorts of discussions and important family interactions
Cognitive Plus
From a cognitive perspective, the most striking benefit is that table top games, like "Beyonder" by Flying NightBear Games, force players to think actively, critically, and creatively. The vast majority of computer games, even those with an open-world style, end up following rather predictable patterns. In the end, the player is still at the mercy and limitations of the game's predetermined script and programming.
Although board games do have rules and some limitations, many of the top RPG games have incredible flexibility and allow players to bring novel ideas and strategies into the game. Creative players are also free to adapt any game's rules and style if they choose, a freedom impossible with most electronic games.
Other Practical Gains
There are also some practical advantages to games that do not require complicated electronics, programs,or electricity. Games are often hampered by technical problems and failures and various digital rights management issues.
As computer games age, they may no longer be supported by their developers, and they may no longer be compatible with changes in hardware or technology. Very few computer games from 10 or 15 years ago are still playable on modern systems. No such problems exist for table top games. They can be taken off the shelf many years later and will play just as well as the day they were purchased
Sources:
The Benefits of Board games. Scholastic.
Benefits of Tabletop Games. Family Game Night Ideas.